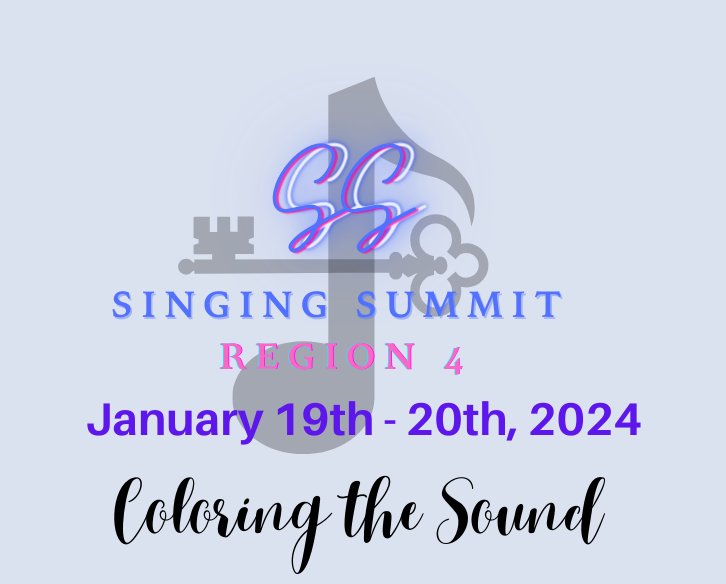 Singing Summit 2024 Class Descriptions - Tentative Schedule
Directors' Day - Front Line Directors, Associate and Assistant Directors Friday 1:00 pm - 4:30 pm
Mary Rhea, Guest Faculty
The Key To Music Selection
Choosing music is a challenge for every director. When you know your chorus's skills, music can be chosen to highlight their strengths. What to look for in arrangements to set your chorus up for success.
Analytical Listening - Prioritizing the Priorities
Analytical listening is a crucial skill for directors. Listen to a variety of performances to discern and prioritize what is needed, then discuss strategies for improvement.
Friday Night
1/19/2024 General Membership Evening Session 7:00 p.m.-9:30 p.m. - Mary Rhea, Guest Faculty
DCP Testing - Kathy Larkins
Artistry -vs-Technique
Artistry or Technique? Do we focus on one at the expense of the other? Do we need both? YES! They work hand in hand for a truly moving performance.
Alignment and Breathing
Our bodies are our instruments. A physical therapist's take on the importance of alignment includes a fascinating look at human anatomy. Understanding how our bodies work allows us to understand that breathing is not that hard!
Saturday Morning
1/20/2024 General Membership 9:00 a.m.- 11:45 a.m. - Mary Rhea, Guest Faculty
Bringing a Song to Life
"It's a musician's job to take the black notes from a white page and make them sound like a million colors in the listener's mind." There's much more to performing a song than singing the notes on the page. Explore how to use the lyrics and the music itself to bring a song to life.
What is Forward Motion Anyway?
All songs need forward motion, but how do we get it? Understand different aspects of forward motion; use and apply concepts to achieve it.
Lunch 11:45 a.m. - 1:00 p.m.
Saturday - 1/20/2024 Afternoon Break Outs - 1:00 p.m. -2:15 p.m.
Presidents & Team Leaders - Putting the FUN into FUNdraising - Sue Pelley
Your Leadership role in creating, inspiring, budgeting, delegating and managing various fundraising activities is the ultimate key to the financial stability of your chorus.  Successful fundraising activities will be shared and discussed.
Communication/Marketing Teamwork - Liz Sabo Johnson and Lura Nightlinger
Learn how the RMT Communications and Marketing Coordinators work together to share concise information and help each other to stay on task.
"Ignite Your Membership" - Marsha Leistner
Learn about the "Ignite the Sound" resources offered by Sweet Adelines International and network with other membership representatives to share your successes in building membership.
Assistant/Associate Directors "The Kitchen Sink" - Amy Leacock
Discuss a variety of topics and share what's working or not, and anything else you would like to talk about.
The Prepared Singer "Color Your Part Smart" - Suzy Lobaugh
Use color coding to identify important nuances within the music as it relates to your part and its relationship to the other three.
Saturday - 1/20/2024 Final General Session - 2:30 p.m. - 5:15 p.m. - Mary Rhea, Guest Faculty
Moving Through Riser Challenges
Performing barbershop is a physical activity. We will explore strategies to engage and retain members with physical challenges who may find it difficult to stand on risers to perform. Included in the discussion: chorus philosophy and culture, riser aids, and exercise programs that may benefit members.
Who's Who and What's What?
Just who is "international" anyway? A fun class that introduces International staff and leadership of Sweet Adelines International - includes International Board of Directors, committees, judges, and musical leaders. We play "name those queens" by playing recordings of International Champion quartets.
2024 Singing Summit Show - 7:30 p.m.